THE GOAT SKATE VIDEO BRACKET IS HERE
Fill Yours out by Sunday Night 4.11.2020 or STFU
HERE WE GO: go to the Dropbox link in our bio to download a copy of this bracket. Fill it out and e-mail it back to us NO LATER THAN SUNDAY NIGHT. Voting in the first round begins on Monday! Also: in case anyone is unclear on this point—
@skatersvote
is a group that encourages skaters to vote in US political elections. You do not need to sign up for anything to participate in the video brackets, BUT WE STRONGLY ENCOURAGE YOU ALL TO PARTICIPATE IN ELECTIONS. PLEASE REGISTER TO VOTE. THIS IS A FUNDAMENTAL RIGHT IN A DEMOCRACY, but nothing will ever change if you don't exercise your right.
Even though it's no longer March "brackets" are trending. Depending on your interests and algorithms, you've seen anything from GOAT Snack Cakes to GOAT Italo-Disco White Label 12"s Released in 1982 and Exclusive to Distribution in Europe. They're fun, they're tedious, they can cause you to lose friends but most importantly they waste time—something we have a surplus of.
As the masters of minutia, Useless Wooden Knowledge have put together the bracket to end all skate brackets. You can win prizes and maybe even arguments if your highly controversial bracket prevails. More importantly, the project is a collaboration with Skaters Vote, a US voters registration and awareness initiative I started helping out with last Fall in the hopes of "registers everyone that rolls." Since the political landscape and voting, in general, has become a cloudy, logistical nightmare, it's a good time to not only research issues, get involved on a local level, stay engaged, and try to stay positive.
While most voting is impossible right now and who the hell knows where the US curve will be by election time, you can also vote with your assholey-opinions by filling out this bracket in the quest to crown a single skate video the Greatest of All Time®.
Here's the thing, you can go into this trying to prune the branches by choosing the videos that had the most influence on skateboarding but as much as it's possible to make these points, with 128 choices, it's largely subjective. For example, if you grew up in the Midwest when Baker 2G came out and your crew emulated the Piss Drunx, your world view might be that it changed skateboarding because all your friends started dressing like Johnny Thunders and using Baker Lingo, even if you didn't know who Johnny Thunders was. That's totally fine.

These brackets are much akin to laying out your record collection—if you own analog albums of course—and trying to rank them. Maybe the world thinks that The White Album is the pinnacle of music but maybe Third Eye Blind's debut was the first CD you owned and it really "resonates." No one can judge, they're your fucking records. And like that, this is your fucking bracket, so push whatever you want to the Final Four and own it.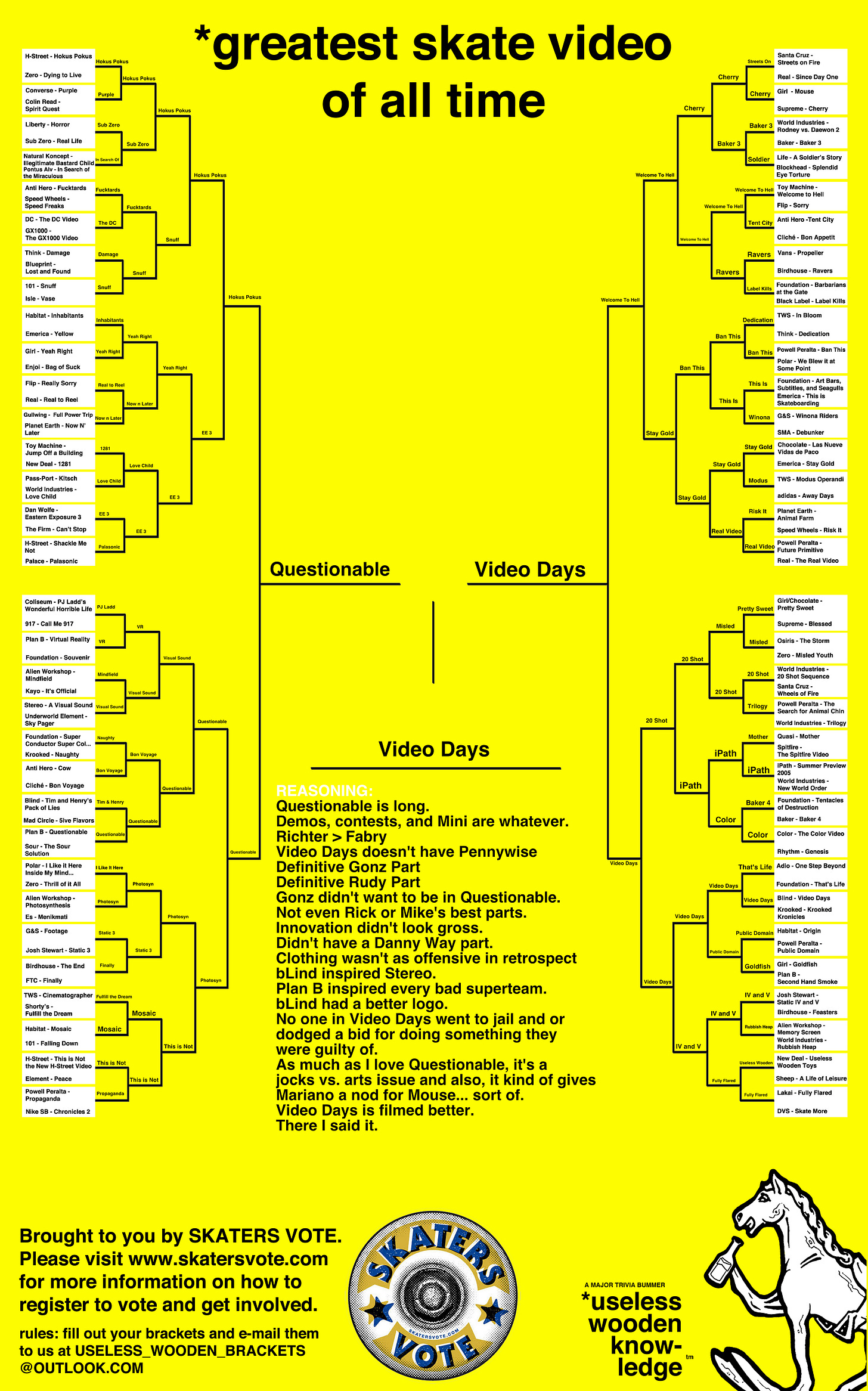 As much as I could bore you with the tough decisions I made on my personal bracket, I'll save you the punishment and instead, extract a few thoughts in bullets below:
Had this been broken down into decades, Eastern Exposure III would have gone much further.
Mouse is an excellent video but Guy Mariano's part is canon. Because of this, when weighing it the matchups, despite Guy's contributions, it's not a layup. Had Rick and Mike had full parts or even a longer shared part, this could have changed.
Santa Cruz Speed Freaks and Risk It were great videos for their time as they were essentially mixtapes for skating in a pre-411 world, especially for Mike V's Speed Freaks part that doesn't get enough credit for promoting Dinosaur Jr in 1988, roughly three years before Memory Screen. Risk It had plenty of unique parts but the lowkey stands outs were skate buddies Ocean Howell and Markus Wyndham, whose maneuvers and fits have yet to be ripped off or emulated in some wacky-nostalgia flip but probably will.
The "big idea"— I believe Andreas and Crew purposely set up this crisis (I gave some input but didn't mess with the matchups)—is that the GOAT Final is a battle of Art Vs. Elite or as I chose, bLind Video Days Vs. Plan B Questionable. IWe could stage this today as Polar Vs. Primitive or Quasi Vs. Element. It's pointless and tedious now but in the context of my bracket, it's massive. Though I actually prefer watching Plan B Virtual Reality over Questionable, the latter was a watershed moment in skateboarding, introducing the "Superteam" but also had a visceral effect on me and many other young people as well as old, jealous pros.
The reason even current day Plan B cannot replicate the original Plan B is that as it was constructed in 1991, the roster was as progressive as it was packed with personality. In fact, everyone on the team was a character, later depicted as superheroes in their graphics. Rodney, Danny Way, Colin McKay, Mike Carrol, Sal Barbier, Rick Howard, Sean Sheffey, Matt Hensely, the then-unknown Pat Duffy, and ill-fated Ryan Fabry. Each rider had a thing and that thing was not only massive but stylized to themselves and complementary to the crew. Collectively, the team thrust skating forward with not only technicality and measurable bounds but creativity.
Video Days was very much the inside-out version of Questionable in that each rider was also insanely advanced and influential but they all led with individuality; every person playing their own instrument, going in and out while creating a dynamic composition. As much as Mark Gonzales' part changed the perception of what street skating could be, it was also jazz but more specifically, a tenor sax that could soothe, shock, plod, shriek, and hum. Jason Lee? The steady drummer, with an innate feel for rhythm and precision and a signature swing. Young Guy Mariano, the virtuoso guitarist, still learning his way around the fretboard and breaking rules, simply by being unaware of them with extra energy and emphasis. Rudy Johnson supplies the strum and Jordan Richter, the cacophonous clash of free jazz spirit agnostic of a single instrument.
Of course, this final showdown was painful if not a shit show in my mind but the nod went to Video Days for its merit, reachability, tone, range, and presence. As much as Questionable is a cornerstone of my youth and a video I can watch consistently when you strip down the intention of each video, you leave the vision.
Questionable was Mike Ternansky's ultimate statement of video skate supremacy.
Video Days was Mark Gonzales' vision told through Spike Jonze's style and awareness of how intricate that vision was.
And the tipping point? Plan B's rigors were enough to incite cornerstone riders to leave and pursue something more "fun" resulting in Girl's Goldfish video, produced by Jonze and packed with nods to Powell Peralta nostalgia and lightheartedness. Video Days became the single most important statement of skating's artistic side without pretension, exclusion, or camouflage for lesser tricks. The tricks are the tricks. The personalities are the personalities and the ending is surreal and absurd as all things truly are.
Submit your bracket and if you can register to vote anywhere on this planet, please do so, and get your shit done by the deadlines, please.