The Full-Length Soundtrack.
The Sounds of Skateboarding's Most Influential LPs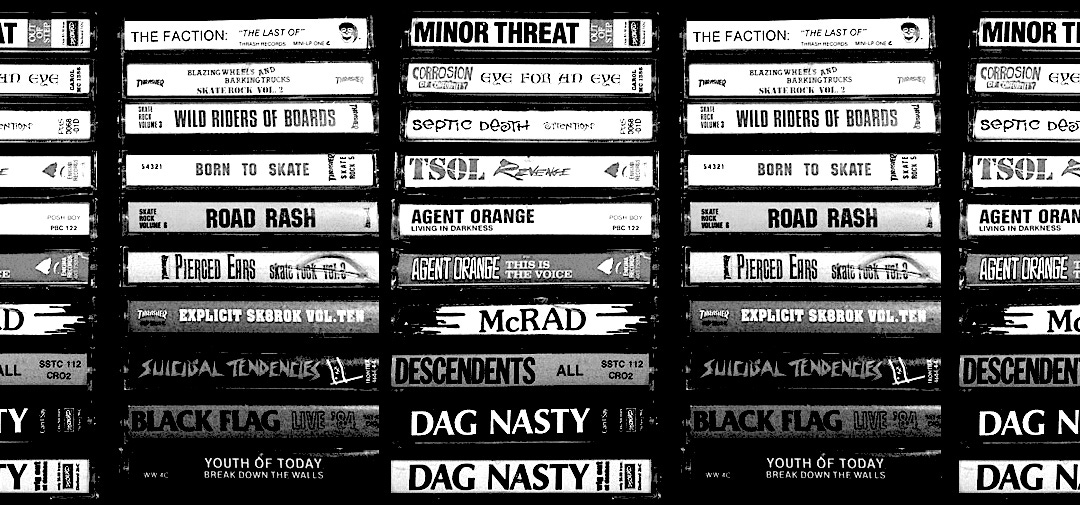 Image courtesy of Jeremy Dean
The original version of this piece appeared in 2016 on the now-defunct RIDE platform. People liked to hate on RIDE but they gave me the opportunity to go deep on things I'm invested in and get paid fairly for the work. Isn't that novel? I made some tweaks and revisions on this one but four years later, I stand by my inclusions. You may not. That's cool too. See how that works?
The argument of the full-length skate video being out-of-date in the age of "constant content" is ongoing and exhausting. If the full-length is dead (it's not), then its run was relatively short as it wasn't until the late-'80s when mass distributed VHS cassette skate videos became commonplace, eventually ramping up into video magazines and steady releases in the '90s. To provide some context, "regularly" was less than one a month, with Skatevideosite.com documenting 10 releases in 1990. Sure, there were more than 10 actually released that year, but you get the idea.
Initially, skate videos mimicked their older relatives—surf movies. The true advent of the modern video was Powell Peralta's The Bones Brigade Video Show (1984), directed by Stacy Peralta. Peralta effectively created more than a marketing tool but a window into skateboarding as a culture, not a succession of tricks set to music. It was fun, goofy, groundbreaking, and honest, setting the medium, albeit slowly, in motion.
What Peralta did for the skate video, was establish a lot of the concepts employed today, especially for the skate soundtrack. He used an eclectic mix of songs, often relating to the location or personality of the skater, much like the graphics of the time. Unfortunately, a lot of it was generic license-free sounding public domain crap but that may have been more of a budgetary decision.
While most '80s soundtracks were steeped in punk rock, that quickly flip-flopped to hip-hop in the '90s based on skating becoming more urban and ethnically diverse. Rap was rising from what the public and antiquated critics saw as "niche" or "urban" music to the most powerful and influential global form of music. Eventually, all skate videos became so saturated with hip-hop though, that they fatigued people as much as all punk videos had a decade before and also dated them.
There's not one sound of skating, there's not a universal soundtrack but rather, a song for every mood, providing another tool to enhance the experience.
A bad song can ruin a good part, proving it's hard enough to get it right once. The following list compiles the entire soundtracks, composed as carefully as a mixtape. The curation may not always be spot on, but they all signify important moments in skateboarding. The key is length here, which is why there are some omissions of many promos and single parts. Consider those EPs and the choices below LPs filled with singles, opening bangers, and of course the deep cuts that pop into your skull, precisely when you've tired of the hits.
H-Street Hokus Pokus 1989
Like Stacy Peralta, Mike Ternansky was shaped by surf videos and a student of Peralta's work. Both Shackle Me Not and Hokus Pokus featured "skater made" tunes, along with some weirdness, and unfortunately, some modern jazz sounding instrumentals.
Hokus Pokus specifically had a specific flow that showcased a wide breadth of musical styles, most notably Sub Society and The Cry. Sure, having Matt Hensley as your brand's anchor helped but the inclusion of Sub Society's "A Whole Lot Less" during his solo part catapulted him to legend status. Honestly, if you grew up with Hokus Pokus and Ternansky's subsequent Plan B videos, you probably got to a Star Wars nerd level with them, which is why you know all the words to songs by Kirk and the Jerks, Wonderful Broken Thing, Loop Zilla, and other bands that still remain obscure in the YouTube/Discogs instant access world we live in. There's also a solid chance that you recorded the audio of this video on a cassette and jammed it in a Walkman or boombox, complete with skating noises, which is a testament to how infectious the soundtrack really was.
bLind Video Days 1991
The only list that bLind's Video Days won't make is the worst videos ever created. It's a perennial favorite, forever being discovered by new waves of skaters, as classic as any Beatles or Stones album, regardless of which team you're on. Everything about this soundtrack was spot on, down to Jordan Richter's section being set "My War," one of Black Flag's most chaotic and driving songs. As the lone "vert guy," on the team after Danny Way's departure, Richter was a bit of an outlier, with the aggressive cut only highlighting that.
Along with the actual cast of skaters, Mark Gonzales' car is a bit of a character itself, chugging along to War's "Low Rider," before cascading off into its final resting place. After the intro, it's straight to business and a then unorthodox song choice, with Guy Mariano skating to the Jackson 5's "I Want You Back." Mariano was a kid, MJ was a kid when he recorded the track and they were both already masters of their craft so it was a perfect pairing. It was also years before any allegations against the King of Pop, so it wasn't creepy either.
A crushing Dinosaur Jr cover of a Cure classic, complete with an abrupt ending, Hüsker Dü, a friend band in Milk, all perfectly pace the landmark video, but it's the placement of John Coltrane and the Red Garland Trio performing "Traneing In" for Mark Gonzales' part that truly changed the game.
It's such a genius choice that you can't picture Gonz skating to anything but Coltrane, yet it was also completely out of the box, especially when you think that most kids hadn't even heard a full jazz track until they saw the video in 1990 or were cognizant of it while thumbing through magazines in a dentist's waiting room.
Plan B Questionable 1992
Everything we know about modern skate videos owes as much to Mike Ternansky as it does the landmark work of Stacy Peralta. Stylistically, Ternansky's imprint on skating is massive, creating the blueprint of the "big" video: Start with the unknown ripper, anchor it with the biggest name, pepper in slams, demo footage, and some off-the-board antics, then make sure the songs are memorable. Notice I didn't necessarily say good, I said memorable.
I think we need to start by saying that this video features two Primus songs and one Primus T-Shirt. Let that marinate for a bit. Yikes. Also, in addition to introducing Hieroglyphics to the world in a track that no human outside of the Bay Area owned prior to widespread use of the internet, Questionable featured Rick Howard skating to Ned's Atomic Dustbin, a band that only diehard, UK indie fans knew about before they hit the dollar bin in the US.
Also, you had mega-trend forecasting with a pre-fame Green Day appearance, the kings of Bro-Hymns, Pennywise, before they became as popular as those wrap-around, Guy Fieri sunglasses that everyone in California wears, and a then "on the rebound" Beastie Boys. You see, the Beasties were experiencing a massive hangover post-Paul's Boutique before it became a thing to call it the Sg. Pepper's of hip-hop, and their inclusion in Mike Carroll's part—three times during his part—was part of the spark that saw them rise to an entirely new level, past their former "novelty song"/pseudo frat rap/joking on frat boy status. And Fu-Schinckens. For real. Fu-Schinckens were a thing and somehow it's a perfect fit for Sean Sheffey's part.
Unfortunately, the inclusion of Bad Brains' "Don't Blow No Bubbles" was a stain on the soundtrack. With its homophobic lyrics and misguided message, it was a bad look then, an unfortunate choice now, and a perplexing one eternally as there are 20 better songs in their catalog.
World Industries Love Child 1992
Though I was tempted to include World's first video Rubbish Heap, for its an "anti-soundtrack," Love Child made the cut for completely changing what songs could be considered "skateable." At the time, World was rolling out ads touting that most of the team were minorities, even running one with a young Daewon Song, Daniel Castillo, and Kareem Campbell featuring the slogan "White Power," below them.
As the industry changed in the '90s—morphing from scuzzy punk rock to a bright, boisterous hip-hop/rave hybrid—World's second full-length, which at 18 minutes wasn't really one, went in an unexpected direction: oldies, R&B, soul, one classic rock track and even some indescribable randoms. Chico Brenes rolling to "Born to Be Wild," the surprisingly clean for the time stylings of Jed Walters as "The Lion Sleeps Tonight" hushes in the background, and a two-song closer ender Daewon Song performing the first hardflip on film, including the namesake video title cut by the Supremes and The Osmonds' "One Bad Apple."
Allegedly, it was Rocco who lead the music supervision, which was not only revolutionary, weird, and maybe ironic, but also one that would never pass through legal in 2020.
FTC Penal Code 100A 1996
If Love Child showed that skateboarding could work with R&B, FTC's Penal Code 100A proved that skating was agnostic of genre and anything could be used, without being cheeky. Aaron Meza's song selections for the breezy, Bay Area Cum New York shop flick dug through the crates to find cuts as diverse as Van Morrisson's "Caravan" and a Ras Kass track featuring Coolio that actually works.
Was the choice of "Family Affair" by Sly and The Family Stone quite literal for a "friends" montage? Yeah, sure, but it was also perfect, along with The Isley Brothers performing "Who's That Lady" during another montage. While opening act, Bobby Puleo has mentioned that the Van Morrisson track choice isn't his favorite, there's a second inclusion that was fought for that almost didn't end up in the video, that remains its most popular. "Uptown Top Ranking," by Althea Forrest and Donna Reid may not have been known to most when Penal Code 100A was released but during Keith Hufnagel's section, the duo and Huf's pop and style became legendary.
Toy Machine Welcome To Hell 1996
As much as Plan B's first two videos mapped out what a super-squad production definitively was, Toy Machine's Welcome To Hell instantly became the gospel of gnar. It wasn't that every rider was tossing themselves off the biggest shit, which there is plenty of but their style and approach were pushed in every regard, not just in the danger factor. So, now comes the task of finding the right sounds to go with the carnage, and Jamie Thomas did just that, by going with some very big tunes to compliment the skating.
It would have been easy to just set the skating to a string of metal and punk tunes but instead, Thomas stuck with the tradition of finding songs that wired into each skater's personality. After the thrashing opening cut by Lard, Welcome To Hell's tone is immediately set by East Coast Powerhouse® Mike Maldonado's pummeling part, set to one of the Misfits' least aggro tracks in the dire, dark cut "London Dungeon." While Elissa Steamer admitted that she would have rather skated to Slayer over the Sundays, it was another perfect pairing, which segued perfectly in the psychedelic classic "Another Brick in the Wall, Part 2," followed by Satva Leung going in with smooth jazz, before things get loud.
Back-to-back Sabbath and the controlled cacophony of Sonic Youth keep the destruction going, before Thomas himself closes the video out in epic fashion for seven minutes, while Iron Maiden blazes through "Hallowed Be Thy Name," which, like most Maiden tracks is about death.
Zoo York Mixtape 1998
Underworld Element's Skypager might have been the first true mixtape soundtrack, but Zoo York's first full-length was absolute mastery that took the medium a step further by including live freestyles and performances from the Stretch and Bobbito show. The footage filmed by Eli Gesner instantly became as iconic as the urban backdrop most of the footage was filmed against by R.B. Umali.
From a young Buster Rhymes to Ghostface and Method Man, the entire mix flowed along with the Zoo Crew's skating, creating a seamless snapshot of East Coast skating. As the only fully hip-hop soundtrack on the list, Mixtape showed that skating was as much about style, delivery, and attitude as it was about tricks and spots. I mean, is the Cube at Astor Place technically a spot? Night footage looks cool there, so it really doesn't matter. From the moment DJ Roc Raida drops the needle at the beginning of Mixtape, it's obvious the East is in the house and of course, the skating backed up all the New York bravado.
Lakai Fully Flared 2007
So storied, that they made a documentary about making a documentary of skateboarding, Lakai's Fully Flared not only lived up to the unfathomable hype surrounding it but it immediately became a watershed moment in skateboarding. While it's foggy as to who actually picked what song for what part, there's little argument that Fully Flared's two-track inclusion of Band of Horses in Guy Mariano's comeback part, pretty much cemented them in the canon of "bands that skaters like, that kinda, don't really have anything to do with skating" and then later, a band so sentimental that they're hard to jam. (not their fault)
Many of the choices seem informed by their subjects, most notably, having some Brits skate to a brit-pop staple by The Charlatans, and other times, they're so random that they work, like having a very un-hesh Mike Carroll blaze around to Judas Priest. Did Koston really need to skate to two Public Enemy songs? Probably not but it's so late in the production, that it doesn't really matter, plus the pairing of Rick Howard's birdlike wingspan and the soaring sounds of Echo and the Bunnymen, are so perfect that the misfires seem minimal. OK, maybe MJ should have just skated to "Goodbye Horses" three times in a row but Fully Flare delivered a diverse enough playlist to please everyone.
Alien Workshop Mind Field 2009
Coming off his work on the DC video, Greg Hunt took on the weight of creating the next chapter in the Workshop's videography. For a brand with such a history and connection to music, Hunt was served a massive challenge, especially with the brand's roster at its most robust. The soundtrack had to be a bit familiar, a bit unpredictable, and feature plenty of ambient interludes to compliment the aloof B-roll footage which would probably thread each section together. Oh, and Dinosaur Jr—lots of Dinosaur Jr.
Hunt may have been oblivious to the fact that he was documenting the end of a chapter in the Workshop's story, but his choices, including the dramatic selection of Morrissey's "Speedway," signaling Heath Kirchart's final full part, were a not only a fitting end but a dynamic document of how far the skate soundtrack had come. Prior to Mind Field, the Sect had no lack of iconic pairings between musical artist and skater but the cohesion of his work speaks to how committed to delivering an experience, document, and mood. It also captured how diverse the actual team was, before fragmenting and scattering into the industry before the brand died and was quickly resurrected.
There's a nod to skateboarding's punk past during AVE's section, through the Adolescents' "Kids Of the Black Hole" (not the first time it was used but the most notable) and the ongoing use of J Mascis' nostalgia-inducing sludge-pop, cast against the modern soundscapes of Growing, Battles, Modeselektor, as well as the somber stylings of Songs: Ohia and Elliot Smith.
If you pluck Mind Field out of 2009 and analyze it, the full-length stands as a snapshot of skateboarding, as it reaches the cusp of internet-driven content. Hunt's choices were the perfect time-and-place for a full hour of skateboarding.
Supreme cherry 2014
Technically not Supreme's first foray into skate videos but absolutely the most high profile, cherry tasked Bill Strobeck with balancing product, skating, and sound, as well as creating an entire video identity for the brand. How Strobeck checked off all those boxes, introduced the world to a new crop of talent, and even squeezed a part out of Paolo Diaz while keeping most of the production a secret until the premiere is unbelievable. Strobeck's handling of the video's sonics was also significant, because he managed to weave in and out of sounds, staying agnostic of genre, yet threading each track together.
Whether it was reintroducing a Jane's Addiction classic or casting the churning gloom of The Cure into Chief Keef's authoritative anthem, Strobeck's choices set up a mood as diverse as the subjects he was filming, with an underlying cohesion. Two members of Team Handsome sharing a part orated by a deceased heartthrob, before closing the production out with stalwart Jason Dill, set to Raekwon and Group Home seem to capture the spirit of the cultural mash-up which is Supreme. Even when that Gang Gang Dance banger drops, warbling and bending along like Kevin Shields shot into space, it just makes sense.
Bronze56K
If you're old, you probably stopped reading this list and went straight to YouTube where you viewed the visuals of your youth with melancholy adoration.
If you're young/young-ish, you already know why Bronze has the highest level of rare music supervision and probably will never see this list.
I chose not to choose a single project as they all build off Peter Sidlauskas' unique view on skating, pop culture, low culture, and whateverthefuck else.
For a starting point, dig into his Jenkem Mix rather than any single video.