SKATEBOARDING'S RESPONSE TO RACE RELATIONS
Many Spoke, Na-Kel Smith Spoke Out.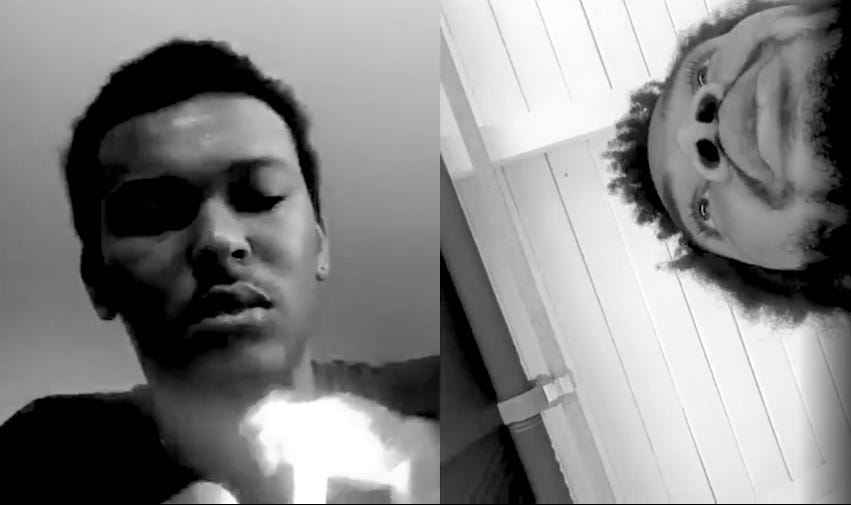 It's important to understand that this piece should be taken as a commentary focused on observation in skateboarding exclusively. There are extremely talented and informed journalists working hard in realtime to provide the resources needed during one of the most toxic times in American history and that's where you should look. Those pieces have the research and historical perspective needed right now.
This is roughly my eighth draft of this weeks piece and I debated going dark as to not contribute to the noise but, to some extent, we all have roles and I wanted to use this platform to tighten the lens and look at how skateboarding is reacting to the murder of George Floyd and how this moment has changed us emotionally.
Like all of us, brands and skaters turned to their social channels to communicate. Most of the talk—at least in my curated feeds—was positive, with few brands specifically using the moment to leverage their standing as an ad opportunity. As much as this is reflective of strategy, I also think it's partially due to a larger sensitivity that brands do need to speak with humanity if they want to connect meaningfully with their audience.

Most importantly, what your favorite pro or brand is saying right now is a direct window into who or what they are and that's massive because everything is too raw to not be transparent and those who are disingenuous are as obvious as the President of the United States.
I did some white pro skaters drop the cringy cliché, "I don't see color, we're all skateboarders" bullshit. Yes, that's complete bullshit and a copout. We all see color, especially those who are viewed differently because of their skin tone.
What cut through the positivity, information, calls to arms, calls for unity, and vanilla takes from vanilla people was a 35-minute Instagram live video by Na-Kel Smith. Smith was responding to his followers who look to him to address race in skateboarding and he started his communication off by saying that he wasn't "here to attack the white people in skateboarding I'm just here to speak up as a black man who has involved with this shit since I was 17." What follows is the most honest discussion and dialog about race in skateboarding that I've ever been privy to. Along with friends Kevin White and Mikey Alfred, Smith called for a real conversation, often asking others with perspective to join or communicating via message with other pros.
What seems to have sparked him personally was seeing those in the industry that he's either had interactions with or in some instances even called out speaking to Black Lives Matter disingenuously in his opinion. And then it began. Slowly. He vocalized his apprehension before warming up and eventually naming names, including Jake Phelps, the deceased former Editor-in-Chief of Thrasher Magazine.
Most of what he detailed was the strange way that white people take advantage of black people through language and intimidation. It begins with singing along inappropriately to a hip-hop song in the van, often knowing it's not OK and even asking for approval. To Smith's point, when you're the only black person in a van and a white guy asks if it's cool if they do this, you often take the path of least resistance and say, "It's cool, whatever," because you are the minority and being asked alone is racist as every white person knows it's not cool.
He and his friends detail these tense encounters, explaining that white people essentially need to stop looking for approvals and loopholes for using racial epithets and simply not use them at all. There's no "n-pass," even when given out drunkenly as a teenager as he explains.
The video oscillates between personal interactions and larger themes within the skateboarding industry. One point that was powerful is that he acknowledges that it's a white-dominated industry but why do they consistently act like they "own" it and treat minorities as lucky to be there? It extends to anything from treatment on tours to product development and marketing.
Smith's honest language was bold and direct: We know you own this, so why are you constantly reminding me? This isn't to say that other white skaters don't feel the same but the difference is that how it's being conveyed, knowing that POC have been omitted from skateboarding's history and industry, even when they're integral and sometimes powerful.
He voices his frustration with black people always being edited arbitrarily to hip-hop and how he'd be pushed back on for skating to music that's "off-brand," even detailing how he and Tyshawn Jones were once asked to "dance" for the camera while filming. Speaking to the filming process, he mentions being used as almost the "front line" while skating heavily guarded spots and spoke to how many white people who aren't used to being in a city environment lack etiquette, citing an example of a filmer cursing out a pregnant woman blocking a spot. Throughout the video, he constantly corrects and self-edits himself not to be politically correct but to be inclusive and respectful. At one point he was hoping to have Beatrice Domond join in order to get the voice of a black female involved and heard.
There's even tension in praise, with Smith often scoffing at the notion that he's "brave" speaking out as the frustration of having to take the action is reprehensible. This isn't a risk to him but rather him in his own words, telling his black fans to not let what he's experienced and what they experience affect their self-worth and, for those white people watching and listening, it's a stark wake-up call—the primer that every white skater needs to absorb.
As much as this video is Na-Kel Smith and two friends airing things out, there's a sense that they are in a moment understanding that they're messengers not authorities—they are telling their story. This is key, especially for any white person who chooses to view this video. It's not about your opinion on Smith or his take on what's happened to him or even your perception of anything he's been depicted doing or saying in the past—that's completely irrelevant and off-topic.
Na-Kel Smith was real. That's it and in doing so, he and his friends allow you the time to think about how they feel and how those who asked them to speak feel.
"A list of names is wrong," he says when asked to name names. "But a lot of people that y'all really look up to—the godfathers of skateboard shit—they say n*gg* and n*gg*r. Don't let them lie to you."