Discover more from ARTLESS
Formerly Overthinking Skateboarding. Look out now, I'm using technology.
Over 1,000 subscribers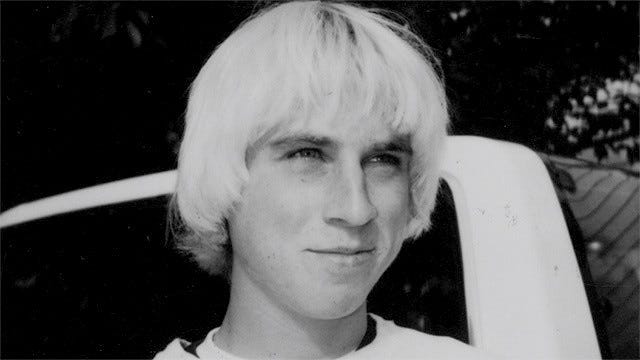 By the time I was 17-years-old my world was narrowed into three interests that crisscrossed and bled into each other: art, skateboarding, and music. That sounds like an unimaginative Tinder bio but that's also what you are at 17; a very earnest but naive human driven by hormones and for some, yearning to be identified as unique even if you aren't.
I had already hatched a plan to move to San Francisco, California by subverting my parents' demand that I get a college degree by applying only to schools in the Bay Area, despite their being better art colleges in a 60-mile radius of my home in New Hampshire. There was a photograph in SLAP (I believe) of Dan Drehobl wearing a San Francisco Art Institute T-Shirt and I recall someone who knew "Spiderman Dan," saying he and Keith Hufnagel had executed similar plans but were actually incredible skateboarders and quickly turned pro. My endgame was to just be in what I saw as the guts of my interests and immerse myself in it.

San Francisco was a big city. It was diverse. It was progressive. It had incredible spots. And over in Berkeley, it had 924 Gilman Street, a premier hardcore punk venue if not the DIY-equivalent of CBGB. The rub was then presented to me via an intense sitdown convo with my parents where they explained that if I went to a Massachusetts state university, I'd get free tuition because my mother was a college professor. If not, I was on the hook for however many thousands a year a school out of the network was, plus living expenses, plus they would resent me for moving across the country because they are protective Italian Americans who also recognized that my wiring wasn't quite "adult" yet. They were 100% right about that. In fact, I wasn't a particularly great artist in a pre-Photoshop era where the kid who could draw or paint photo-realistically was "the best artist" in your class. The one in mine was a fellow named Paul who was an airbrush wizard with a curly McSqueeb haircut who painted people's leather jackets. I don't think he flourished as an artist.
I chose Massachusetts College of Art and was accepted provided I took some primer classes in the summer before the fall semester started to… I dunno… suck less. At this point my "art" was literal. If I was angry, I chose red and black and probably drew a face with clenched teeth. Maybe I had an Ed Templeton graphic in mind and painted a lady whose leg was a flower that led to a pot. And like any budding "skartist" there were plenty of Neil Blender/Mark Gonzales hybrid sketches of some guy, with a face, doing something.
Driving into Boston a few times a week gave me access to Boston things, including a great spot path that started with going to Copley Square and ending up in the Financial District. Copley was a scaled-down Justin Herman Plaza in a sense and enclave for street skating. You'd see locals such as Jahmal Williams, Robbie Gangemi, Mike Bell, Mike Graham, Kyle Vadeboncoeur, Roger Bagley, John Foster, Jad Angel, as well as traveling pros and those who moved to the area for school including Ben Liversedge and sometimes Jacob Rosenberg. Boston felt real.
After a miserable fall/winter semester of school where it snowed at least once a week starting in November, I finally was able to enroll in some classes I wanted to take including an oil painting class. My instructor's name was also Paul. Paul didn't speak about art conceptually but rather as a muscle you build up based on your body type. Mine was loose, simple, and expressive.
"You see how they're trying to paint the model realistically? Yeah, you don't do that, keep doing that thing with the palette knife you're good at that," he said over my shoulder. So I did, and suddenly, I had a "thing" and it gave me confidence. I stopped giving a shit about replicating other things or having some big idea, I just looked at shit and painted it my way. I did this in skating as well, knowing I wasn't technical, and trying to be was the opposite of fun, so I focused on doing what I could better, with more panache and purpose, plus maybe learning a variation.
Then a string of videos came out starting with Stereo's A Visual Sound, not quite in complete succession but it felt like there was a new story building. Forties Amigos, Deluxe Ride On, Real Non-Fiction, Stereo's second video, as well as FTC Penal Code-101A—the greatest East Coast skate video filmed mostly on the West Coast. (I'm not going to explain why).
Of all these videos plus the ones I'm omitting because my brain still isn't wired that well, the part I watched incessantly was Keith Hufnagel's part in Penal Code. As a kid, you replicate things you aspire to by being literal: I like Michael Jordan, therefore I'm buying Air Jordans. Mike Carroll wears that shirt, I need that shirt. Or, I heard so-and-so likes The Smiths, I need to like The Smiths. Some people don't shed that and that's cool too, let's not judge as maybe there's something to not shedding that simplicity.
Huf's footage in several of the videos I mentioned along with his deluge of photographic coverage weren't things I sought to emulate especially because just proposing that is psycho. Huf had stand out talent and signature style that felt so focused that it allowed everything to flow. In the same way that I love watching old Muhammed Ali fights, I like watching Keith Hufnagel ride a skateboard—the fits, the tricks, the style, the English on his push, the spots, and yes, for a good portion of time, that bleached Beatles-cum-raver haircut. I'd watch a Huf part then head to the blocks around Longwood Medical in Boston and skate, often by myself all night. If it was cold and it was, I'd pound two espressos, twitch out, and probably have Althea and Donna in my head as a pushed around. Corny but true.
It was never "that dude looks so cool," but rather, "Fuck, I'd kill to step outside an be able to skate like that." Later it was "Damn, imagine having a career that flawless" and "Huf has impeccable taste, from his stores and later his team riders." Every interview cemented that yeah, he accomplished a lot but it was about skateboarding and that actually meant something that he fostered: growing a community by supporting people you believe in.

The legacy in skating, the brand building, the friendships… he did all that by being himself. I'm thinking about Keith Hufnagel's friends and family right now, the ones that knew him so well and valued him so much. Like any passing, we can't help but think immediately of our attachment to someone; that time you met them, the last time you saw them, how they inspired you. That's part of grieving but then I feel selfish and understand whatever type of loss you feel is amplified infinitely for those that had a person in their lives and hearts.
Rest In Power Keith Hufnagel.