Gino Iannucci: Behind "61st Street"
Clear My Head, Stay Sober, the Soul Controller.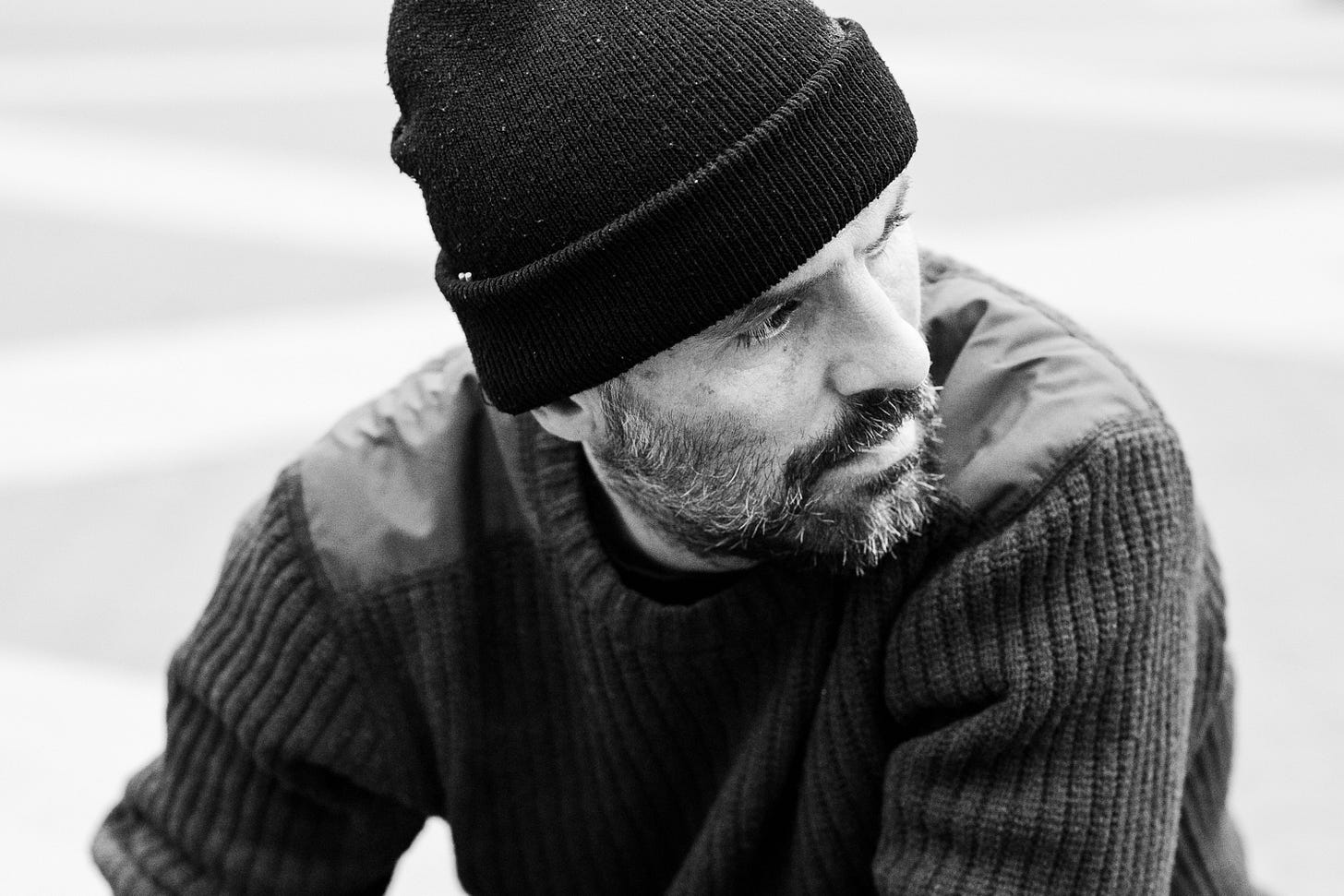 Photo by Cole Giordano
From 1997 to 2001 actor Matthew Perry, better known as Chandler from the sitcom Friends, couldn't take any more pills, popping in and out of rehab, often showing up on set after drinking a quart of vodka. Perry's said that he remembers little from that stretch and while superstars love hyperbole, the mix of opioids and alcohol makes the claim completely believable, especially if you've ever experienced the muted reality spun by excess and abuse. He cited a jet skiing accident as the entry point to his addiction to painkillers which should resonate with any skateboarder familiar with Nick Dompierrier's struggles, chronicled in both ESPN and an in-depth interview on the Nine Club.

Despite the incredible strain he put on his body and soul, Perry managed to appear in roughly 150 episodes of the hit show with his weight fluctuating drastically, netting between $85,000 to $750,000 per show. A rough comp for this would be Slash or Duff from Guns N' Roses, who mixed alcohol with pills, cocaine, heroin, and likely more than a Google search could produce. While they weren't on a soundstage, they were performing before millions of fans with physicality and no mulligans, making the act even more difficult and often times, messy, out of tune, and chaotic.
Upping the physical demands of entertaining while intoxicated, former professional basketball player Chris Herren had a 70 game career for the Boston Celtics and Denver Nuggets where he openly stated that he was on opioids for the majority of time on the court. Herren went on to play in Europe, China, and even Iran from 2002-2006, during which time he overdosed and crashed his car into a pole after being legally dead for 30 seconds in 2004 and later was arrested in a Dunkin' Donuts parking lot for possession of heroin in 2007.
A strange tie-in to Dompierre, Herren crashed his vehicle in his hometown of Fall River, Massachusetts, a town miles from where Dompierre was also born and also lived, a part of the US notorious for opioid use. Also of note for the sake of trivia, Perry, though often thought of as Canadian, was actually born in Massachusetts as well.

Perry, Herren, and Dompierre have all achieved sobriety, but unlike actors and basketball players, skateboarders don't have a set or game time. Time itself is barely a guardrail as releasing 2-5 minutes of footage over the course of 1-2 years in the '90s was perfectly productive. Being charming on camera, ripping a guitar solo or getting some minutes on an NBA floor are all demanding but the risk of death or life-altering injury is small compared to what many skaters attempt during their day-to-day. This isn't meant to "rank" the difficulty of "things you do whilst fucked up," but rather explain that addiction doesn't care if your famous or a layperson because the odds are always in favor of the substance prevailing. Still, if skateboarding is considered a sport, it's the only one where being intoxicated is perfectly fine until it's not.
So while it's up to the individual—often a minor—to navigate this world with caution, we understand the success rate of this and accept it because no one wants an "International Skateboarding Drug Committee®" or any real regulation on their personal lives. Instead, we rely on ourselves and peers to figure shit out.
To end on a positive note, I spoke to Gino Iannucci last December about his success with sobriety and the short video titled "61st Street" released with a new Nike SB x Poets sneaker. As the piece explains, the video is a reflection, a thank you, and most importantly, a positive push.
You can head to High Snobiety to read the piece and view the video but for the sake of convenience, I've pasted the copy below:
It's December 30 when I meet Gino Iannucci in a cafe on The Bowery in Manhattan. Everyone around feels psychically united by a blend of holiday hangover and new decade optimism—one of the few times the city of New York feels reflective. Recently relocated from his long-time home in Long Island to Manhattan, Iannucci is upbeat. Though we're there to discuss the collaboration between Nike SB and his brand Poets, our conversation is centered around a narrative that usurps sneakers, skateboarding or the impending new year.
"It's different for everyone," he replies when I ask about his six months of sobriety. "There were two back-to-back skate trips to Europe that I could barely remember, the last one ending pretty badly. I got into a program in Palmdale, California with the help of AVE [Anthony Van Engelen]. He really led me into treatment."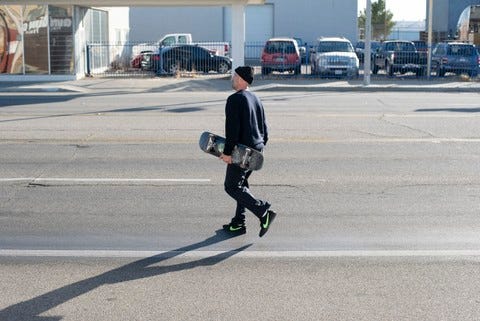 Photos by David Serrano
Having dealt with alcoholism for most of his adult life and career in skating, Iannucci has talked about addiction in interviews and videos before. Sometimes it was in jest, like the time he pointed to the house arrest monitor above his Air Jordans in Yeah Right! (2003). Other times, like in his Epicly Later'd video series for VICE and in a candid interview with Jenkem Magazine in 2014, he got into the grit of the disease, detailing his experience in a shock program at a minimum-security prison in Upstate New York as a consequence for a series of alcohol-related incidents. Despite his honesty, both interviews never spoke about programs, meetings or epiphanies but instead served up bits of truth as to why he hadn't followed up his comeback part in Yeah Right! with another full part. This is how fans of skating often quantify careers: by minutes on screen, not their poignancy.
The video, filmed by David Serrano, edited by Iannucci and titled "61st Street," is less of a comeback and more of a meditation. Released alongside the Nike SB x Poets Bruin Low, the five-minute clip was shot entirely in Palmdale and Lancaster, a nod to the location of the facility that aided his sobriety.
There are tricks, of course, but it's their placement, framing, and repetition that resonates. Through the washed-out grain, there is symbolism and synergy. The greenery punching through the dusty landscape reflects the shoe's Voltage Green Swoosh but that aesthetic callback is purely coincidental. It's the slow and often jumpy footage of Iannucci pushing and flickering on a barren highway, sometimes cast against power line masts resembling crucifixes commingling with Jane's Addiction's "Three Days," that lay the tone.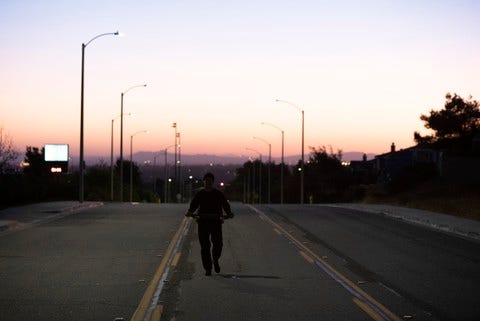 "61st Street" has its allusions to Iannucci's experience but on its own what's relatable is its honesty. Agnostic of theme, it depicts the humble battle for fulfillment that anyone who's skated can relate to—turning a stretch of pavement, a slight bump or a curb into satisfaction. Watching Iannucci spin a back 360 ollie off a curb cut is as fulfilling as his iconic one in Yeah Right! because you see the work that goes into skateboarding. Like Jim Greco's recent skate films Jobs? Never!, Year 13, and The Way Out, "61st Street" may come from a serious place but it's still light and it's still skateboarding.
"One of those tricks—just a little clip, actually—legit took three days to get a good make," he says laughing. "Skateboarding is no joke in your 40s."