Getting To Know Norma Ibarra
Pain Is Part of Growing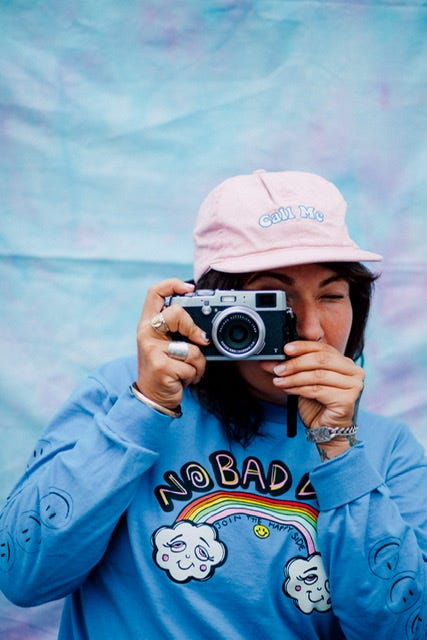 PHOTO By Hannah Bailey (Neon Stash)
Photographer Norma Ibarra is part of an important shift in skateboarding. With more diverse skaters rolling than ever, there's a need for not just covering their skating but skillfully doing it in the right environment. Whether it's video, photography or the written word, documenting skateboarding requires more than the knowledge of those mediums. To the most out of what's happening in front of you, trust, comfort, and connection are key.
In 2019, Hannah Bailey and I had the massive opportunity and honor to moderate a panel for Pushing Boarders 2019 in Malmo, Sweden titled "Editor's Note: Brutally Honest Skate Journalism." The purpose of the panel was to attempt to demystify the inner workings of the media side of skateboarding and in the process, create some visibility between those running the outlets and the people out there skating who might not be receiving the coverage they deserve.
Just revisiting that mission statement reminds me of how lofty that goal was and that while we may not have changed the guardrails in place in skate media, a challenging and inspiring conversation was initiated. Part of that dialog was a handshake pledge between everyone to continue to keep the lines of communication open and most importantly, collaborate.
In speaking with Norma Ibarra on and off stage, I was struck by her talent for being blunt while keeping the conversation light and her impact on people. She has the ability to interject humor and insight into any interaction and that's rare.
Most importantly, Norma has an inherent understanding that her photographs are more than images of people she's passionate about; she's capturing a vital era in skateboarding that has the power to inspire others.
I thought it would be cool flips things around and document a bit about her journey in skateboarding.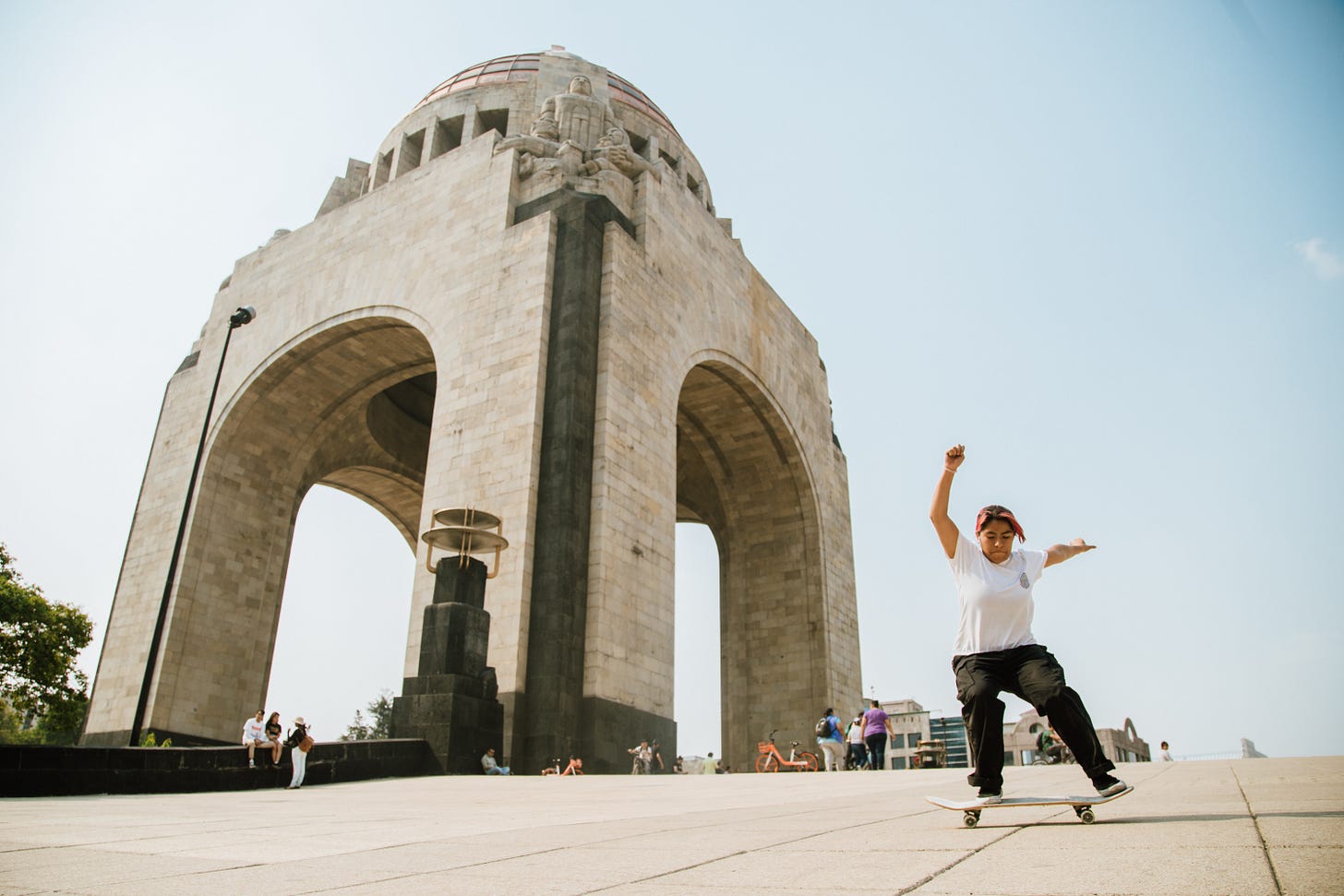 Itzel Granados, Powerslide • Mexico City 2019 (All Photos by Norma Ibara)
Can you give us a little background on where you grew up in Mexico and what your passions were before finding skating?
I am originally from the Sonoran desert of Mexico, from a town called Hermosillo located in the northwest area of Mexico. Since I can remember, I tried so many different things, from school sports, like volleyball, flag-football, gymnastics to having my own radio show and being involved organizing rap, punk and electronic shows in the back of my house. I had a lot of different stages in life but I fell in love with photography in high school when my mom gifted me her camera.
What got you into the skate community?
Back in the fall of 2015, I started a new job in social media—besides photography, I work in digital marketing. I ended up moving to Vancouver, British Columbia and by luck, ended up living a block away from Antisocial Skateboard Shop.
In high school I knew a few people who skated but never thought I could try it, for many reasons—my family or I couldn't afford to have a skateboard and I never saw other women skating. It was scary and something almost that felt not allowed so it was the one thing I never tried and I always wish I did. Living so close to the shop gave me no excuse to start—I found a community to be part of. Michelle Pezel shared all the information on the one women's Facebook group to connect with other girls who skate. I reached out, got my board and here I am now. Chickflip Ladies night at SBC -2016 Chickflip Ladies night at SBC -2016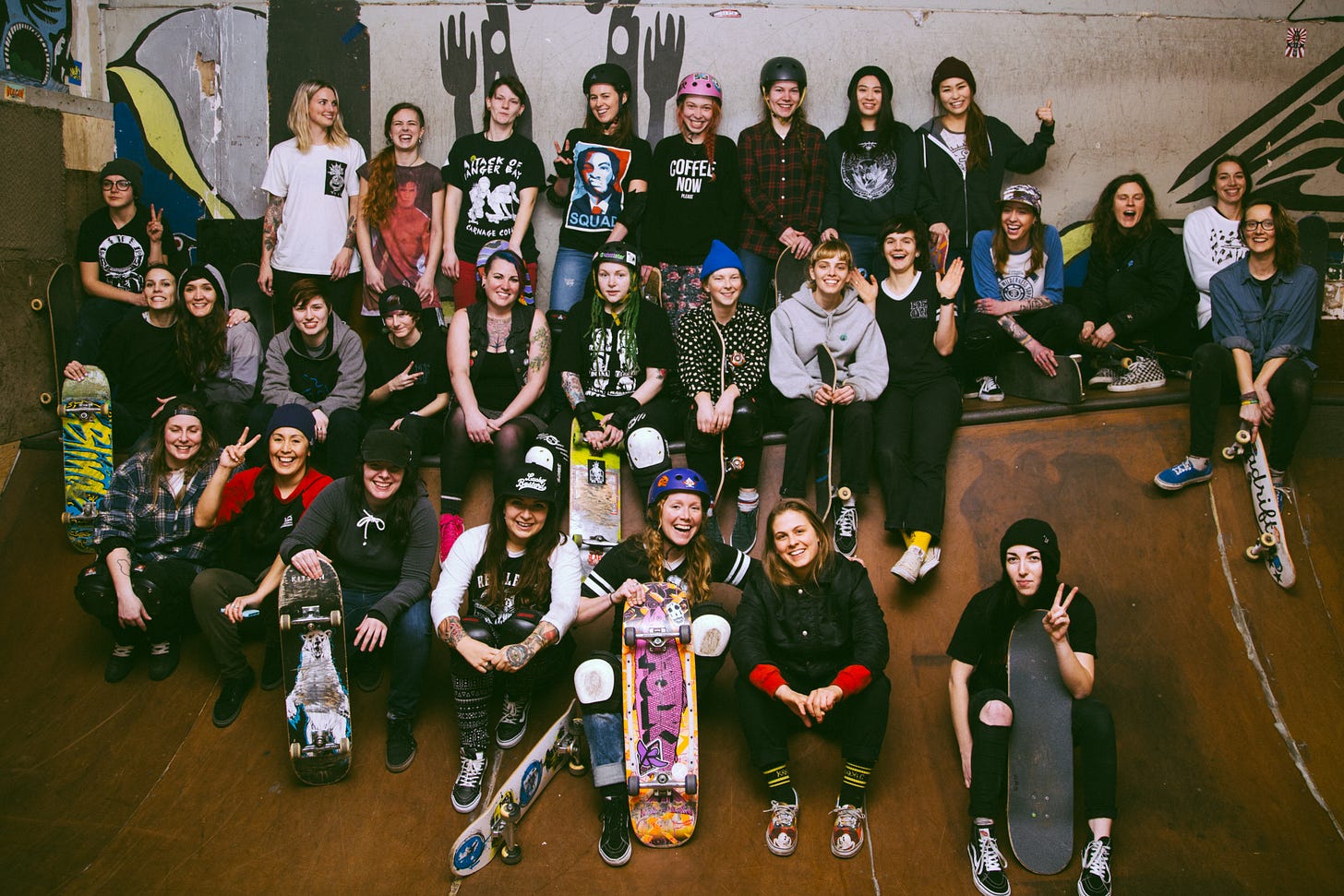 Chickflip Ladies Night at SBC • 2016
There is more than just utility in your photography in that you're always capturing more than just tricks. What's your philosophy on documenting and why is it important for you to do it?
As much as they say a photo is worth a thousand words, I think a photo can capture the words I could never write that really explains a moment.
Everyone has a story to tell and everywhere we go there are so many stories happening.
As a photographer, I get the privilege of capturing and sharing part of those stories. I love nostalgia and I love treasuring moments—having a tangible memory of a person, a trip, a situation is priceless. I think skateboarding is in a very unique and important stage and it should be documented for future generations to see.
When I started skateboarding I noticed no one else around my circle was shooting my skate community so it felt right to do it. I'm thankful for skateboarding and photography because they have given me so much. I want to take advantage of my skill to share a message, I want to shed the light on people, I want to create an impact but also, I want to look back at these photos 10 or 20 years from now and remember how things were and celebrate the history of it.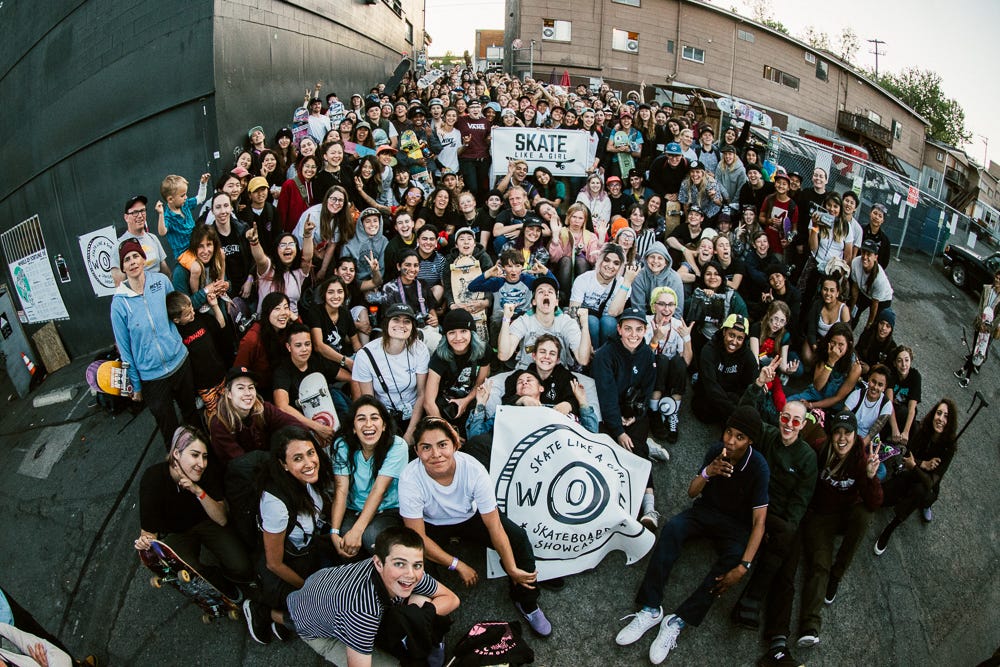 Wheels of Fortune • 2019
Can you talk about what brought you to Vancouver and if you could and more specifically, how you handle relocating internationally?
I didn't plan to move to Canada, I just had the opportunity to take a five-week English course there. While I was taking the course in Vancouver, I realized I didn't want to leave so I found myself a job. Canada used to have a program called Live-In Caregiver where after passing some screening, tests, and applications, you are allowed to work for a Canadian Family for about three years. If you pass that then you are eligible for a work permit, and so only until then, you can become a resident.
I was a nanny for three years and I wasn't allowed to take any other work but I started volunteering since so I could get Canadian experience. It wasn't an easy process—it was a lot of paperwork, money, time, but I was determined to do it. I made that decision in the middle of summer with only $200 in my pocket. I literally had to start from scratch in a new city, a new country, where everything is so different than home but at that time I was done with my old life, I needed a fresh start, a big change so I was mentally ready and managed to survive.
I do have to say I was very lucky to find a very supportive Canadian family who adopted me and mentored me so I could do well.
Since the majority of the people reading this will be based in the United States, can you speak a bit about the misconceptions you run into when you tell people you're from Mexico?
One of the most annoying things I get told all the time is when people tell me "You don't look Mexican" and I reply, 'What's a Mexican is supposed to look like?'
The thing is, Latinx/Hispanic people are incredibly racially broad. There is a big history of colonization, migration, and diversity for years and years. As much as those comments happen so often, I think that opens an opportunity to remind people to reflect and dismantle the reductive stereotypes they were taught about Mexico or other cultures. Unfortunately, we all have been influenced by the media, where they depict Mexico as a dusty old town with a bunch of donkeys etc.
It's a complicated and intense topic, as I try to put my thoughts together and realize how a "look" can fit into the larger social framework of what's going on in society. I don't have an answer to how I became a certain color or where I'm really from. Colonialism made sure that I would never understand my history. But if I can do something I will try to educate people about the situation, about how Mexico is more than the Mafia and dusty towns. Mexico is a country full of warm, hard-working people, a lot of culture and diversity and I invite everyone to learn more about it—you will love it. Community - Girl Skate India 2018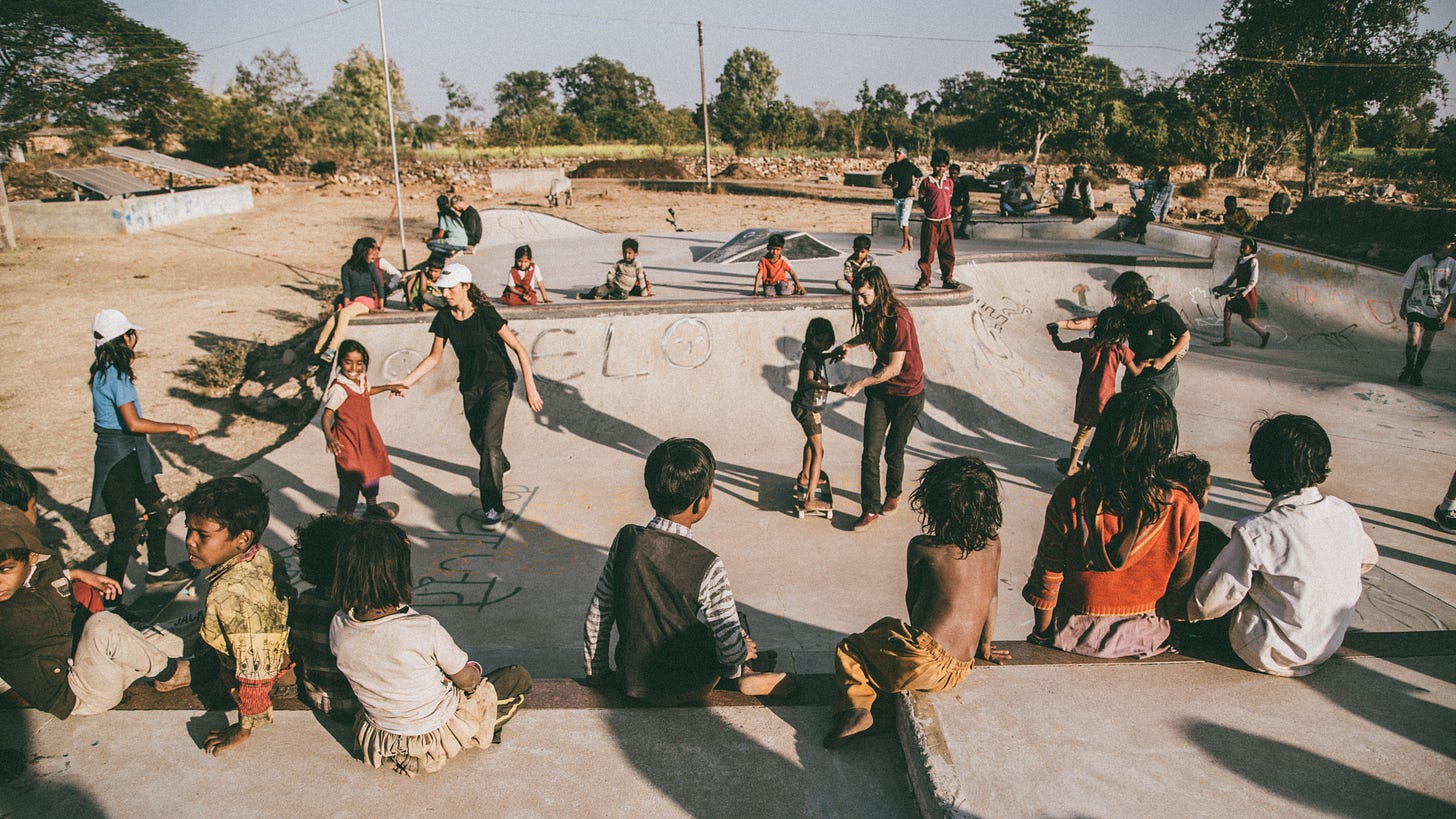 Community, Girl Skate India • 2018
As skaters, we all end up finding a crew and sometimes jumping from crew to crew based on moving or travel. What was the first crew or group that really took you in and how did that change skating for you?
When I first started skating I became part of "Chickflip '' an online group of women looking for other people to skate with. One day, I met up with the founder, Kristen Laundry and I was too scared to skate the mini ramp we were at so I asked if we could do some sort of women-only sessions once in a while so the beginners could actually try the ramp without all the pressure of people who were super advanced.
Soon after that, the first women skate sessions happened and the rest is history. Through these sessions, I met Kristin (Ebeling) and Shari (White) from the Skate Witches. The Vancouver crew and the Skate Witches became my good friends but also my mentors. It's impacted my life in many aspects. Believe it or not, skating with them helped with my mental health, confidence, and my career. I'm super thankful for it all.
What's harder for you as a photographer: Getting access to great stories and images or finding a place for those images to run?
For many years, it was a dream of mine having my work published but it was a struggle. I tried to submit my photos to magazines and got denied but the fact that the Skate Witches zine wanted to publish my work kept me stoked and motivated to continue shooting and improving my photography.
In the last couple of years, there are more new, and independent publications that feature non-traditional skaters and brands are also jumping in to support those communities but I think there is still lots of work to do to highlight and support those communities—we gotta keep pushing!
After attending Pushing Boarders, what's the biggest leap you'd like to see skateboarding as a whole take in 2020?
I want to see more unity and collaboration—people supporting and celebrating diversity working on good causes through skateboarding. Skateboarding is a powerful tool in life and I want everyone to enjoy it!
If you were given the opportunity to make one book about all your work and experience, what would that be and what would the big theme be?
"Skateboarding around the world"
We all derive so much love from Skating and sometimes a lot of frustration and all agree that it's bigger than the trips or tricks. What is skating a metaphor for in your life and experience?
"Pain is part of growing." I like to use this learning from skating to life in general—we have to fall in order to learn a trick. I like to bring this into my everyday life, to remind ourselves that no pain comes without a purpose and sometimes life closes doors because it's time to move forward.
I think every great success requires some type of worthy struggle to get there. Good things take time. We have to remember to stay patient and positive and eventually everything is going to come together. Maybe not super immediately but eventually. Pain is part of learning and growing.
Having traveled so much and photographed so many skaters, who are the most underrated skaters out there that you want to give a little shine to?
I really want to shine the light to organizations such as Skate Pal, Free Movement Skateboarding, Skate Like a Girl, and Cuba Skate, who are doing work on the field. Kudos to everyone who volunteers their time for amazing causes.
Do you have a photograph that really captures the spirit of your work or time that defines you?Never forget to give back photo is also 2018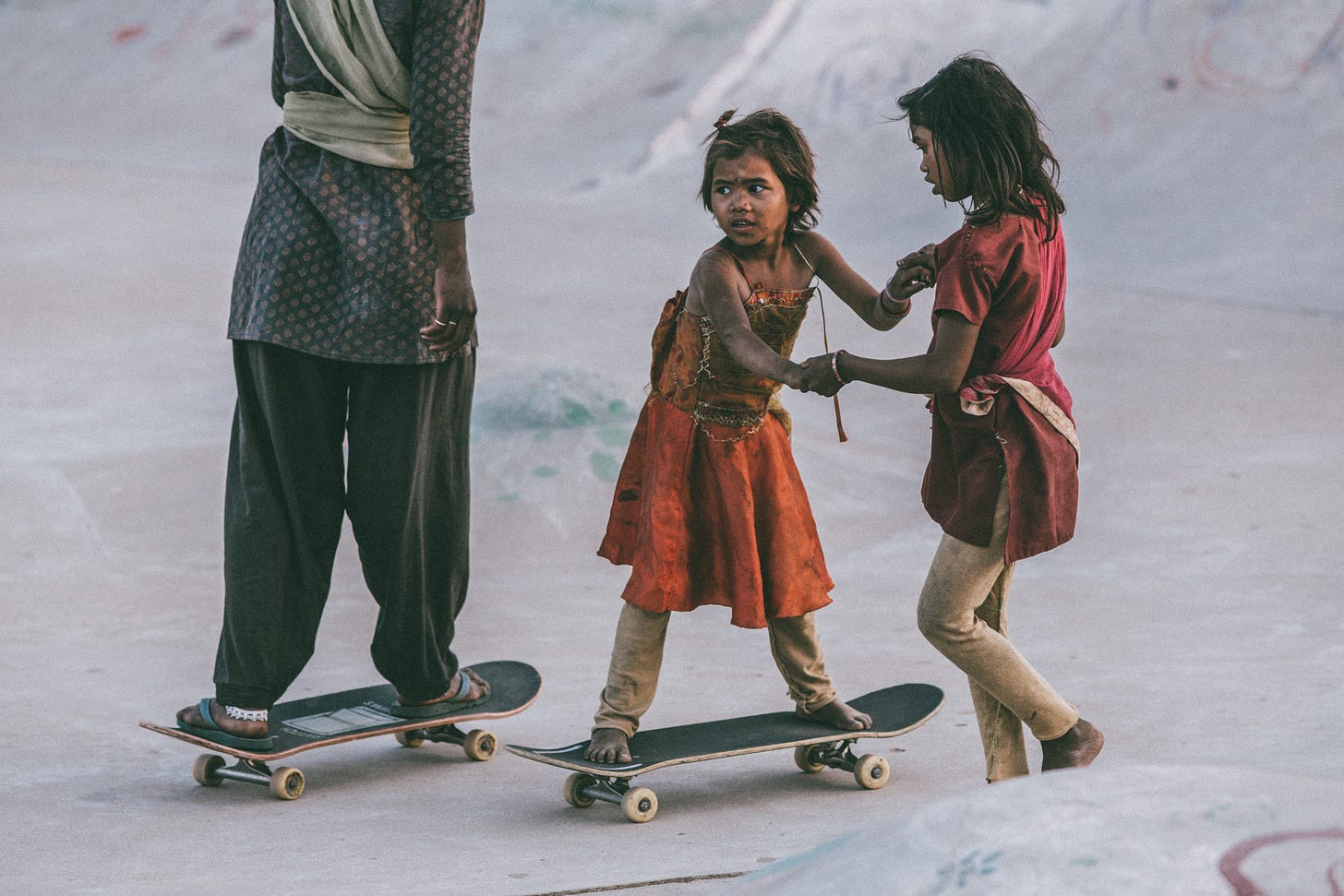 "Never Forget to Give Back" Girl Skate India • 2018
I like this photo for me is a reminder of community, but also not taking things for granted, a reminder of always giving back to skateboarding.
Dream job or dream lifestyle?
Dream lifestyle :)
Visit normaibarra.com for more info on her work and ongoing journey.