bLind Section
Get By With a Little Help From Your Friends... Maybe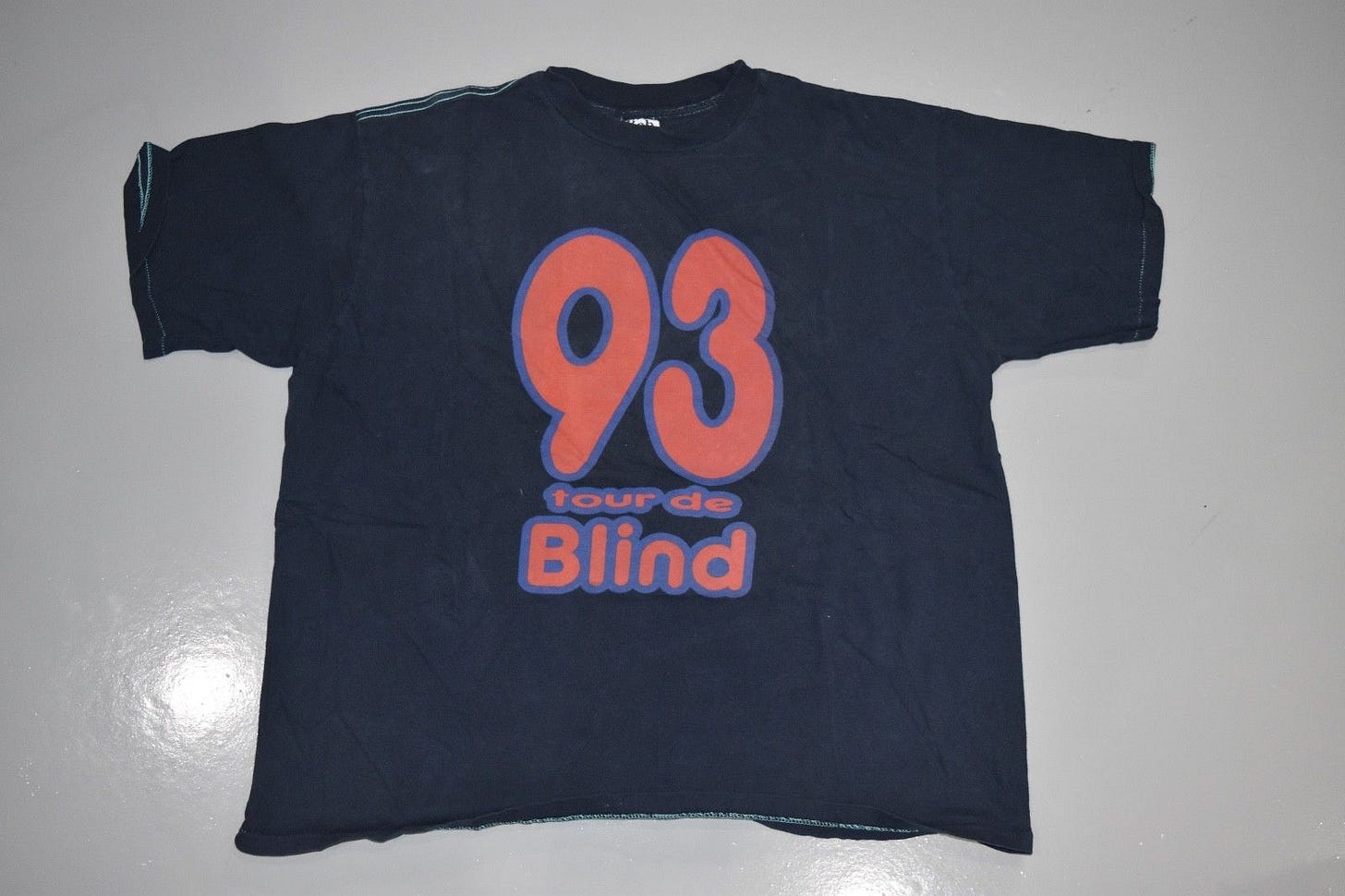 "The bLind "Friends" Section in Virtual Reality: A Secret Coming of Age Tale"
I get by with a little help from my friends,
I get high with a little help from my friends,
Gonna try with a little help from my friends.
Nestled between Rodney Mullen's sullen section in Virtual Reality and Michael Carroll's fluidly orchestrated street skating opus, the bLind "Friends" section is more than just a few minutes of skateboarding. Deceptively disguised as a silent kiss goodbye (like an ex) to Rocco and the World Industries family tree, the footage is a compact coming of age allegory, set to a tune that was already nostalgic when it was chosen.
Let me provide some personal context to explain just how poignant and foretelling this was at the time and will continue to be for future generations.
I graduated high school in the spring of 1993. Like any teenager-cum-adult, I had a network of friends, love interests, aspirations, and a shitty job. On top of all these romantic things, I was in love with skateboarding, not only the act of it, but the process—going out with your friends, meeting people, and all the mirth that happens along the way. There have been many texts written and movies scripted about how everything changes when you graduate high school and unless you're a fucking sap, you don't really care. Yeah, it's emotional or something, but for me, it meant I was leaving a town I hated and moving to Boston for college, right as the city was popping off for skateboarding, as well as the perennially thriving music scene. My friends who were going to stay in their respective hometowns were going to come in and crash on the weekends, we'd recreate all of these moments in a much more lively city, and everything would be great. And of course, you can juggle that long-distance relationship, because those work out as well. Wrong.
None of these things happened, nothing really went according to plan, and on top of it, I found out that a freshman's schedule at art school really sucks and doesn't allow as much time for fucking around as one would like. What I didn't realize during every viewing of Virtual Reality, both alone and with groups of other skateboarders, is that it was an actual "Dear John," letter to our youth—one last display of "friendship," before life does what life does. What's that? Well, let's break it down for those of you who are having trouble wrapping your head around this and to the delight of those who've been kicked in the crotch by it.
Jeron Wilson: Forever Young
Jeron Wilson is a special skateboarder, in that we got to watch him blossom into an adult on video. Talented, chiseled, often ponytailed, he's a silent leader and entrepreneur, but never flaunting his wealth, but rather, the fruitful experiences they provide him and others. Having Mr. Wilson placed first is wonderful, as he shows you what hard work, determination, intuition—I mean, fuck, his investment in Diamond Supply Co., people—can bestow upon you, as well as being a fantastic skateboarder into his twilight years.
In many ways, young Jeron's section casts him as a clandestine hero, so it's only fitting that he's presented to us in an optimistic fashion before bad shit starts to happen. Spoiler alert: It does.
Ronnie Bertino: Burning at Both Ends
The first to stay behind, Ronnie didn't set sail with Sister, but instead kept his post at bLind after Virtual, along with Henry Sanchez. Though it's never been clear if he was asked to join what would later become Girl, Bertino continued on his path, providing wonderful examples of switch back 360s (the first on film), perfect frontside flips at a time when few were popped, caught or landed sans pivot, leaving behind a vapor trail of carcinogens behind him. As his graphics and ads constantly reminded us, Mr. Butts loved his cigarettes, proving that no matter what, some of your friends are going to stubbornly do their thing. And Ronnie did, very, very well, at a fantastic clip, until he hit some troubles with the taxman—yet another hidden and intertwined Beatles connection—where he learned the reality of the I.R.S. and the consequence of not realizing that the income you receive partially belongs to Uncle Sam. Alas, Ronnie Bertino remains on the business side of skateboarding, pursues physical fitness, family, and interest in automotives. He probably has a cool finished basement too.

Brian Lotti: Art Cannot Be Defined
A carry-over from the H-Street era, Brian Lotti's love of shove-its, travel, animals, and philosophy cast him as the romantic lead in the bLind section. As an eternal dreamer, Lotti followed his creative passions right out of skateboarding around 1994, partly because he had some injuries, but also because he wanted to be zen as fuck in a monastery in Hawaii, and I guess make art too. The second Italian American featured in the section, Lotti speaks the romance language of skateboarding, as he's always exuded a fluidity and dexterity on a skateboard that marries imagination and execution. Unfortunately, his Roman features are also chiseled to break hearts. As much as you enjoy him, he's the one that got away, even teasing you later in life with brief flashes of passion visa vis returns to skateboarding, only to tragically leave, once again due to physical harm. Brian, you'll perennially be the one that got away/the friend that floats in and out of your life, and man, you can really fucking paint. It's beautiful.
Tim Gavin: Keeping it Real (Estate)
The Gav is known for being a bit self-deprecating, acknowledging that he knew his time as a pro was waning as his switch game failed to develop, but an entrepreneur never panics: they just look for the next venture. After heading to Girl and putting out a solid part in Goldfish, Gavin's footage was sparse, but he planned for his future, being pivotal in founding Lakai, DVS, Filament, as well as Matix, while maintaining a successful real estate business. In 2017, real estate is many former '90s pro's main revenue stream, so Gavin proved to be visionary in both skate apparel and post-professional prosperity. The lesson here is one of reality. Sure, he was a top-shelf pro, with a successful shoe, and all the opportunity he wanted, but he didn't see himself as Koston, so rather than milk it, stay relegated to the montage, he went for real "grown ass shit," and while it's not always the sexiest choice, he probably has the coolest man-cave of any friends you know.
Rudy Johnson: He Will Be Your Father Figure
When I envision Rudy Johnson, my mental image is of him grinning—in an ad, in a vintage automobile, with a child, holding a stringed instrument, and sometimes, even smiling in a pair of shorts, perhaps the most difficult situation to muster a flash of dentals. For fans of his Video Days part, Rudy stealthily pushed progression with these clips in Tim & Henry's Pack of Lies, including that fabulous switch rocket double flip, and puts on an absolute clinic in TF and street skating in a matter of seconds. Sadly, while he remained a role model, Johnson never fully delivered on his promise, providing mere minutes of footage for the remainder of his career, before his triptych of three wonderfully smooth tricks in Yeah Right!'s montage, providing a poetic swan song to a lovely career. As the musician of the cast, Rudy's played in various live bands, recorded music, and run Royal Trucks under the Crailtap blanket, as well as enjoying some tender Father-Son moments in the Crail Park. As a fan of Rudy Johnson, you can't always get what you want, especially some footage in the L.A. Boys documentary, but hey, he's a healthy, happy, family man, and don't we all want a simple life?
Henry Sanchez: Some Like it Hot
Style, execution, selection, and innovation. Henry Sanchez had all the raw materials necessary to be a fixture in skateboarding as long as he desired to do so. The wildcard was that Sanch was notoriously headstrong, and by his allegiance to Donald Trump and border regulations, he's still comfortable being the vocal outlier. Rather than dipping for Girl, Sanchez admittedly stayed with bLind for the paycheck, refusing to give up his apartment and interest in expensive automobiles. This worked for a while, but once he fell out of favor with the World camp, he found himself looked at as "damaged goods." There were the lean years a Pier 7, where he admits he "proved himself to be a drunk," more than his skill on a board, before fueling a comeback that fell short not out of ability, but out of reputation. Rather than holding out hope, he chose to restore vintage cars, relegating skateboarding to hobby status. To this day, he's still that guy in the pickup basketball game that makes you think "what could have been," but in the current climate, his political leanings and temper just don't play well. Being a hothead when you're young is part of the adrenaline, passion, and hormones, but as you age gets tedious, especially when you're baiting people on social media with political posts—everyone grew up with someone like this, but it doesn't taint their talent in the case of Sanchez.
Guy Mariano: The Long Road to Redemption
Well, where do you want to start with this one? Kids, if you have close friends, one of them is going to follow this story arc, and if you want to bet on who it will be, go for the one with the most talent. I mean, plenty of parallels have been made about the last Italian in the lot, especially that of a Child Actor, but unlike most, Guy genuinely beat his addictions and found the Lord Jesus Christ, rather than doing it to dodge court time or child support. Addiction is a real problem, and with the opioid crisis growing, each one of us is going to know it closer and closer—that shit is no joke. Sure, Guy wasn't hooked on Oxy's, but he battled drugs and alcohol on the low for years, before reaching his tipping point, and then, "you know" the rest. Looking back, each trick in his part was not only much more advanced than anything happening in skateboarding for the most part in 1993 but also performed with flair and precision. Not only did Guy overcome, but he has catapulted himself into an echelon of that is minuscule—the ageless wonders of skateboarding. I mean, sure, his knees probably benefited from the time off the board in the 90s-00s, but he had to get fit and shit. He did that, but many don't. Early detection, support, and understanding is the key.
So, younger folks, if you're wondering why old heads or, fuck, maybe your Dad gets misty-eyed when he pulls this up on YouTube, you now understand. Heed this precautionary tail and understand that youth isn't wasted on the young, it's perfectly valued. You do your thing and that's wonderful, but hey, understand that nothing stays gold or some shit, at least for today.