Discover more from ARTLESS
Formerly Overthinking Skateboarding. Look out now, I'm using technology.
Over 1,000 subscribers
BEAUTIFUL REASONS BEHIND THE CRY
From H-Street Soundtrack to Skate Video Canon.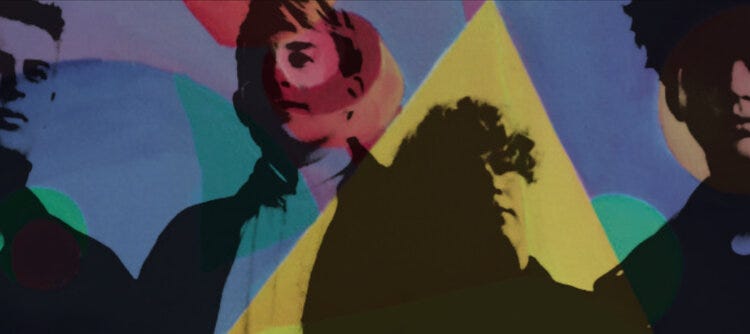 I've written about this several times but the power of the skate video as a vehicle to promote music is massive and still largely untapped. There are bands I hate, yet I've heard a single song of theirs more than something I actually enjoy, simply because of someone interesting skating to their music. In theory, a skate video is a more powerful medium for a band than a traditional music video, especially in 2020 when that medium is largely obsolete. But there are issues with music rights, and stubborn personalities, narrow visions of what can be skated to, and most importantly, a disconnect between the music industry and the skateboarding industry.
As a discovery tool, the early videos I was renting from Video Expo and sometimes buying from a bicycle shop called Flyin' Wheels were introductions to a world—sometimes a primer on an entire label such as SST via there prominence in Santa Cruz's video output in the late'80s/early'90s. Released in 1989, H-Street's second full-length video titled Hokus Pokus was absolutely pivotal in how it presented skateboarding and encapsulated not only its progression but its direction for years to come. It wasn't necessarily the filming or one particular part but rather, its entire vision.
What's particularly interesting about Hokus Pokus was its soundtrack, largely comprised of demo cassettes, unsigned artists, and bands with loose ties to the brand. Some of the songs were goofy, others almost anthemic, and few sounded of their time. Perhaps it was the repetition or the fact that Matt Hensley could have skated to the sounds of a broken oven and it would have been iconic, but the songs in Hokus Pokus became a secret handshake for the hardcore—people who really gave a shit about skateboarding's culture not just the act.
On the East Coast, if you were able to find a Sub Society 7" at all you were stoked. If you did, it most likely wasn't the one with "A Whole Lot Less," let alone the demo version in Hokus Pokus. Many of us just settled for holding a handheld recorder up to the TV to create a mucky, mono recording of the soundtrack, complete with skate noises.
One of the most notable bands in the video wasn't remotely punk; a very British sounding, echoey band called The Cry who contributed two memorable songs and whose music would be resurrected years later by Pontus Alv and Polar Skate Co.

Despite having The Cry in my brain since 1989, I realized I didn't know anything about them but with their music being re-released by Dowd Records and the band reforming and releasing new music, I hit up the label to dig into the origins of one of skateboarding's most known, unknown bands.
Could you give me a brief history of the band's formation?
Myself (Jeff Cirka) and Blaise Spiteri were playing in different yet similar style bands when we first met. The bond between us was immediate and we shared the same vision and philosophy on what we both wanted and expected out of our art. After a few jam sessions with our first drummer and keyboardist, we knew this was the direction we wanted to go and The Cry was born. Approximately two yrs later, changes became necessary and the decision to break with the original lineup was made. While playing in their own respective bands, we approached our friends Jeff Berkley and David Nilson to join up with us to complete The Cry. This line up is still The Cry today.
We all played in similar style bands before The Cry—80's British all the way.
Unlike a lot of US indie bands or bands adjacent to skateboarding, the Cry was much more informed by post-punk. What bands formed your sound and were you aware of bands such as For Against, The Ocean Blue or DearDarkHead who were mining similar territory.
We were all heavily influenced by 80's British and Scottish bands ie. Echo and the Bunnymen, The Smiths, The Jesus and Mary Chain, New Order, Joy Division, The Cure… sorry to say no to all mentioned bands. I only heard of The Ocean Blue after we began our extended break.
Can you talk about how you ended up in Hokus Pokus and any memories of that time, specifically through the lens of skateboarding?
John Sonner was a fan of the band from our beginnings and asked to skate to "Twist of Fate" for a video part he was doing with a company named H-Street. Beautiful Reasons was not yet completed and all we had were roughs, but we agreed straight away and he put us in contact with a guy named Mike Ternasky. Mike really liked our sound and asked if he could use "Alone" as well for another part he was thinking of. It was hard at the time to imagine "Alone" in a skate video... in fact, we really tried to talk him into using other songs but Mike was fixated on using "Alone" in a particular spot of the video—clearly his vision was spot on—and we certainly never expected it to have such lasting favor with the skate community.
The H-Street soundtracks became so beloved but for most of us throughout the world, finding any of the music was next to impossible. Why wasn't The Cry able to leverage that exposure into more shows, touring, energy etc?
For the time, the exposure was broad in that two of our songs were on a skate video that was released worldwide. It sounds big and is big but that was the only way to hear us then. Beautiful Reasons was not yet released on cassette, radio stations were not playing our material and the new world of streaming services didn't exist, so people couldn't simply look us up. We did play shows regularly in San Diego and Los Angeles and sometimes as many as eight shows a month which was a heavy load for a group of teenagers too young to even be allowed in the clubs (only on the stage or outside).
None of us had any idea what Hokus Pokus would evolve into over the years and as Mike was leaving H-Street to form a new company (Plan B), Capitol records were also very interested in us yet they were hoping we would move a bit more to the grunge element. We were losing interest in that whole idea and found ourselves burning out way too young. The love for it was dwindling, so we took what was supposed to be a little break and hopefully hook up with Mike's new company when the time was right.
When did you first become aware of the new interest in the band and Pontus Alv's use of the Cry in the Polar videos?
In late 2016 Our streaming numbers started to swell and larger royalty checks started coming in from our publishing company. We did some quick research and we ran into this sick article from Jenkem that had us affiliated with Polar Skate Co. and Dane Brady. We didn't have Facebook or an Instagram account at the time, so there was really no way of knowing it was happening or for anyone to inform us that they were using or going to use our material. It was a game-changer for the four of us when we saw "I like it here inside my mind. Don't wake me this time" on YouTube—so reminiscent of our beginnings with H-Street.
So in a sense, did that video spark the return?
We always have remained close friends over the years and shared the same love of The Cry, but after seeing the Polar video we got the ultimate stoke and decided to try our hand at a recording session again to see what we had. It was as though the time never passed us. The sound was as fresh as ever for a now much older group of dudes.. a bit rusty but felt as dialed in as ever...we decided to fully re-band and make another full album. We are 100% back at it. (Pontus Alv is the reason we are back)
Do you have any memories or instances where people kind of tripped out that you were in The Cry or just connected that your music was in such a popular video?
It happens frequently, people are really tripped when they find out that we are the ones that created "Alone" and "Twist of Fate." We get immediate cred from being in Hokus Pokus and they are always full of questions and want to know everything about the era. It is good therapy to relive, and it really is a testament to Hokus Pokus and the legendary cult status behind it. So many skaters both older and young have a genuine love for it and the music. We are so fortunate and truly grateful to have been given the opportunity to have a piece of its culture.
Favorite H-Street skaters of all time and why?
John Sonner will forever be one of our favs. Not only a great skater in the day, but he also introduced us to Mike T. .. But even before H-Street , I think we would all agree that the absolute fav skater will always be Matt Hensley. Dave had a ramp at his home that Matt loved to ride. With all of us being from the same town, Hens would roll up, jump out of his car with a few of his homies and just shred it up then jump back in his car and disappear... It was so absolutely badass to witness it.
Most memorable show the Cry played?
There were a few that really jump forward, but the absolute stand out would have to be one of or first shows in Los Angeles, at The Roxy in Hollywood. It was a showcase for A&R reps in the record industry. Just one of those perfect nights with a flawless set with all merchandise selling out. But the best part was selling out the venue with the majority of people traveling from San Diego to see us. It was totally unexpected and unforgettable.
If you were asked to pick one tune that really embodies the sound and feel of the Cry, which tune would you pick?
Albeit a rushed and incomplete recording, the song "Told Me So" probably most embodies the sound and feel we were going for. Back in the day, "Trees" was the track that everyone said was The Cry. We had no idea that all roads would lead to "Alone" though.
When was the last time any of you sat on an empty beach?
Ha! Far too long ago… probably something everyone should do much more frequently!
FOLLOW THE CRY, YOU COWARD @THECRYOFFICIAL