Baker 4 & The Irishman
Tis' the Season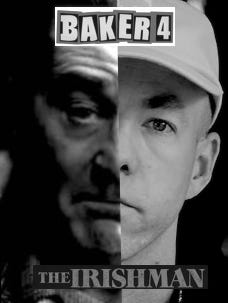 In critic Anthony Lane's review of the Martin Scorsese's motion picture The Irishman from The New Yorker's November 4, 2019, issue, he breaks down the dread of the film's opening scene succinctly and with a bit of humor. The review—titled "There Was Blood"—dwells upon Scorsese's relationship with both directorial devices he's employed over his long career as much as the actors he's often worked with who become unique characters on top of the actual roles they've played in his work.
"If The Irishman feels sadder and slower than anything he's done before, it may be because, at last, he's seeking to reckon with that reverence. Hence the wistful sequences, at the back end of the story, with a decrepit Russell confined to a wheelchair, in prison. Even here, however, amid the creaking pathos, the director can't quite bring himself to cast doubt upon the credentials of his heroes; the clear implication remains "How are the mighty fallen," whereas someone like Peggy would question how mighty they were to begin with."
Lane's lede and kicker tap into the exact mood of Baker Skateboards' latest full-length, Baker 4, orchestrated by Ryan "Beagle" Ewing and Andrew Reynolds. Like The Irishman, Baker 4 was a long-labored over project given limited screenings and officially released on streaming platforms on November 29, 2019. OK, so we have two things that seemingly have zero connection happening on a day but there's a deeper synergy that's not quite as obvious. The slow motion and long tracking shots, use of nostalgic music, the dotting and dashing of time and age, the sudden bursts of graphic violence, and most emblematic, the underlying tension of watching these characters age without showing their lines and wrinkles.
The Irishman begins with Frank Sheeran (Robert De Niro) reminiscing in a nursing home about his past kills. It's an accidental nod to Spike Jonze's work with Girl Skateboards in The Chocolate Tour's (1999) "I Used to Be Fresh" skit, where urged several iconic riders don prosthetics to appear elderly as they recounted their NBDs while sitting in the rec center of an assisted living home. Baker 4 begins with a similar somber celebration as Neckface adorns the famous Carwash banks in Los Angeles with the name "Jake Phelps," in black spray paint, memorializing the late Thrasher Magazine Editor and savant, who passed away in March of 2019. Like The Irishman, Baker 4 begins with an immediate mediation on mortality amplified by the timing of the holiday malaise that affects so many of us. And like Scorsese, Baker 4 then jumps back in time, albeit a few years, as it begins with "kid" footage of Kader Sylla.
What's immediately apparent is that this video is not a grainy VX jaunt with lighthearted hijinx aplomb. The pacing is almost glacial—something every reviewer and fan has noted about the three-hour-plus Irishman. The trick celebrations are less about "getting fucked up tonight," but specifically for the older set moments of the "gang" being back together for a last supper and in the case of Dustin Dollin specifically, not dying in the process. Dollin and Justin Figueroa both posted gruesome images of injuries they sustained as they pushed to the video's deadline that bore the same visual impact of a crimson Scorsese orchestrated hit. Even when younger riders Tristan Funkhouser, Sylla, or Tyson Peterson triumph, there's an immediate feeling that the joy is finite and in Sylla's case, his lengthy two-tiered part could be a send off as well. With a 14 year gap between Baker full-lengths, it's apparent that there's likely to never be a Baker 5 and if there is, it would likely be dramatically different. Though he's technically a Deathwish rider, there's the glaring absence of the most mob-centric figure in the brand's history as Jim Greco never appears on camera. Greco himself has hinted at his disappointment with this choice just as Ray Liotta has mentioned about his exclusion from The Irishman to the media.
Despite not being included, there's a diner scene in The Irishman that's a nod to Liotta's character—a quick homage that's less blatant than Ali Boulala prancing and plodding the keys of a piano as Dustin Dollin smokes a cigarette. The tension is immediately cut, not by Boulala riding a skateboard but swallowing a flying jet before it seemingly disappears into his skull. Baker 4 is a Baker video in that it has hammers, random moments, familiar sights and sounds but it's also a nostalgia play. "The Boss," Andrew Reynolds appears throughout the video—a legend trope employed by many modern skate video editors—before unleashing his terse, lower-impact part. Though he looks as graceful as ever on his board, compared to his prior body of work, ledge-line Reynolds feels as nimble as Frank Sheeran stomping out the shop owner who pushed his daughter. He's still Drew, still inspiring, still powerful, but it's a different type of hammer—less flashy and almost more impactful in its methodical restraint.
As much as Rowan Zorilla and Figgy's parts which close out Baker 4 are examples of riders in their prime, they're equally melancholy. Despite having the most "Bakery" tricks in the video, the song choices, presumably made by Reynolds who edited Baker 4 are anything but "fun." Zorilla skates to Minnie Riperton's hazy "Les Fleurs," a song that mentions the inner beauty of the conceptual flower that blooms inside each man and while he's bounding down gaps and balancing on kinked handrails, Figueroa isn't cast against stoner rock fuzz or beefy classic rock but instead, he cheats death to the Eric Burdon and the Animals ballad "To Love Somebody"—the second song in the video with "love" in the title. It's not a triumphant way to usher in the curtains but rather the video's most sentimental rumination on one-sided love. Is it a stretch to call Baker 4 "sweet?"—a love letter to fans and family? There's a glaring hole of hijinx that everyone's mentioned but that too feels intentional. Reynolds and several Baker alumni are now people with families, Reynold's daughter specifically included for a flash in the video. LGBTQ skate icon Elissa Steamer has returned to the Baker fold and juxtaposing her skateboarding with some street footage of a drug addled homeless woman or any equally misogynistic stab at edge would seem disjointed. It could be argued that this and Scorsese's omission of the brutal violence against women that he's often depicted in his work are a mirror of culture in 2019 and that's an inherently good thing but it also dates the prior work, in a sense, it makes the past a time capsule. Woke Baker is Baker.

In a sense, skateboarding videos, most often watched in isolation are one-sided themselves. They're part snuff film, part motivation, and part pornography. We cheer the joy with envy and adulation. We're excited by the violence. We view each moment the first time with anticipation and often leave disappointed that "this person didn't do this thing we expected." Many of us dodged relatives over the Thanksgiving holiday to view both Baker 4 and The Irishman on various devices and they both deliver on their promise to entertain, excite, and to a lesser degree leave some holes. They're both road trip narratives that document what we already know—life's a bitch then you die so distract yourself from the end by living, and in each work, dodging the pigs in the pursuit of whatever the hell your thrill is.
In a last injection of homage, Baker 4's credits roll as Lou Reed's "Street Hassle" coos along. Though we never reach the lyrical passage, the song offers a very macho spin on romance, stating:
I'm not being smart
Or trying to be cold on my part
And I'm not gonna wear my heart on my sleeve
But you know people get all emotional
And sometimes, man, they just don't act rational
They think they're just on TV
It's hard to say that neither Baker or those involved with The Irishman don't wear their hearts on their sleeves. They make things out of love for the feeling of the past to candy the present. Most importantly, in the case of Baker 4, skateboarding occasionally needs a reminder that it's not about being cool or irreverent or technical or daredevil. Instead, the Bakers give us the gift of a feeling that transcends tricks and can be recreated anytime you push, solo or not. Like Scorsese's epic, Baker is long, entertaining, and a bit depressing but ultimately, both are fun even if part of that enjoyment is watching something burn to a cinder.
Yes, even T-Funk and Kader will eventually change their way of skating if they remain active for as long as Greco, Reynolds, and Erik Ellington have produced—we all will. The difference us mortals and the Baker Gang is as simple as Lane wrote in his review for The Irishman, "That's the thing with wiseguys. They don't grow any wiser. They live and die, like the rest of us, just a little before their time."